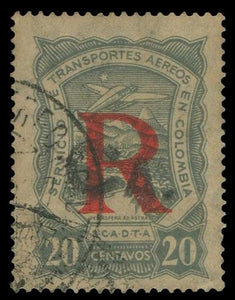 Gary J. Lyon (Philatelist) Ltd.
Item #
S007298
Canada SCADTA SFLCA1
1929-1931 Twenty centa Colombia SCADTA Consular stamp with registration "R" typographed overprint in red and "CA." handstamp in black; a very scarce used single with portion of circular datestamp, slight ageing of no importance. These particular handstamped Colombian airmails were available at Consulates of Colombia in major Canadian cities from 1929 to 1931 for use in combination with Canadian postage stamps for proper expedited airmail service to various destinations in Colombia, Very Fine (Unitrade CFLCA1; catalogue value $1,200)
Regular price
$795.00
$0.00
Unit price
per
Tax included.
---