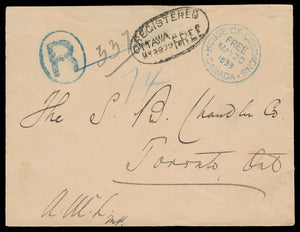 Gary J. Lyon (Philatelist) Ltd.
Item #
S007684
Government Official Handstamp
1899 (May 20) Envelope sent registered free of charge to Toronto, portion of top backflap missing, well struck House of Commons with Large "Free" (27mm diameter) handstamp in BLUE (Davis CP-15ii) and same-ink oval "R" (Davis CR-3ii; rare), along with bold large oval Registered Ottawa FREE MY 20 99 postmark in black (Davis OR-2), countersigned at left. A rare combination of blue-ink coloured registration and House of Commons markings, appealing and Very Fin
Regular price
$450.00
$0.00
Unit price
per
Tax included.
---