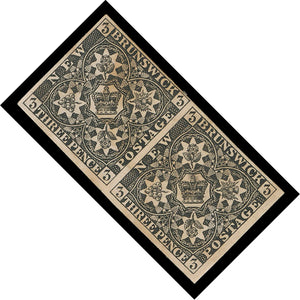 Gary J. Lyon (Philatelist) Ltd.
Item #
S007889
New Brunswick 1P
1851 Three pence Heraldic, an immensely rare plate proof pair printed in black on thin card; usual light yellowing of no importance. Surprisingly, very few exist and in fact many well known collectors of the past did not contain even a single example, Very Fine
(Unitrade 1P; catalogue value $6,000)

Provenance: Nicholas Argenti, Harmer, Rooke & Co. Ltd. (London), November 1963; Lot 5
New Brunswick Collection, SG Auctions (New York), November 1980; Lot 21
J.R. Saint Collection, June 2000; Lot 366
Regular price
$4,250.00
$0.00
Unit price
per
Tax included.
---