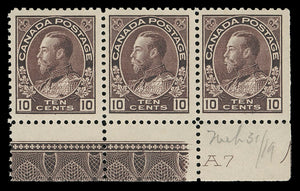 Gary J. Lyon (Philatelist) Ltd.
Item #
S007954
Canada 116
1917 Ten cent plum, an impressive plate "A7" strip with deep colour, natural straight edge right, pencil "Mch 31 / 19" date of acquisition by pioneer Admiral collector Major White. Left pair with superb Type A lathework, printing order "934 F" visible under on centre stamp, right stamp with plate "A7" in lower margin. Quite well centered with large
margins, hinged on left stamp, right pair is NH. A rare and appealing lathework / plate number multiple ideal for exhibition, Very Fine (Unitrade 116; catalogue value $4,500 as normal lathework pair)
Regular price
$2,950.00
$0.00
Unit price
per
Tax included.
---