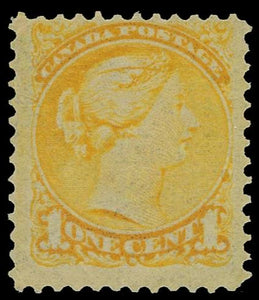 Gary J. Lyon (Philatelist) Ltd.
Item #
S007244
Canada 35viii
1896-1897 One cent yellow (Ottawa Printing), perf 12, mint single with prominent Long Strand of Hair plate variety, light fingerprint on full original gum, Fine, Never Hinged (Unitrade 35viii; catalogue value $1,200)

This is the longest and best example of all "Strand of Hair" plate varieties, also known as Hurst Long Strand Type I. Its actual plate position is still unknown. Catalogue value reflects a lesser strength of this variety.
Regular price
$895.00
$0.00
Unit price
per
Tax included.
---