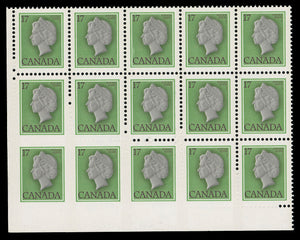 Gary J. Lyon (Philatelist) Ltd.
Item #
S007980
Canada 789c
1979 Seventeen cent Cameo Queen, an impressive lower left corner margin of twelve with lower pair IMPERFORATE, traces of blind perfs outside the key imperforate pair and in immaculate condition. One of the toughest modern imperforate errors to obtain with just
nine examples reported, Very Fine, Never Hinged; 2013 Greene Foundation certificate
(Unitrade 789c; catalogue value $3,000)
Regular price
$1,950.00
$0.00
Unit price
per
Tax included.
---