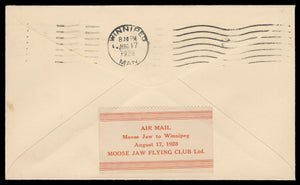 Gary J. Lyon (Philatelist) Ltd.
Item #
S007877
Canada AAMC CLP7 - 2800
1928 (August 17) Moose Jaw, Saskatchewan to Winnipeg, Manitoba Flight; a pristine cover bearing a Two cent green Admiral tied by clear Moose Jaw 10:30 AM AUG 17 1928 machine cancel; the ($1) red on white Moose Jaw stamp (Position 5 in the pane of five) on reverse is well centered and sound, affixed at foot of envelope showing Winnipeg 8:30 PM AUG 17 1928 arrival postmark above as do most of the few known covers. A particularly choice example of this scarce flight cover, XF (AAMC CLP7- 2800)
Regular price
$2,250.00
$0.00
Unit price
per
Tax included.
---