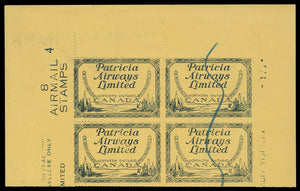 Gary J. Lyon (Philatelist) Ltd.
Item #
S007713
Canada CL43Piii
1929 (10c) Patricia Airways Limited, upper margin Series "4" rouletted block in dark green on yellow gummed paper - no airplane. Centered a bit to left, crayon mark through right column applied by printer, likely due to inconsistent impression, most striking, Fine, Never Hinged  (Unitrade CL43Piii; cat. $4,550)

Side margin inscriptions are noticeably weak and the "-PAL-" printed letters on both sides are thinner than those on the issued sheets.
Regular price
$2,495.00
$0.00
Unit price
per
Tax included.
---