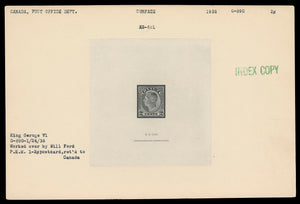 Gary J. Lyon (Philatelist) Ltd.
Item #
S007882
Canada EN88-P1b
1938 Two cent King George VI, Large Die Proof typographed in black on india paper 96 x 100mm die sunk on full-size card 229 x 153mm, with die "XG 681" number and Canadian Bank Note Company Limited imprint below design; INDEX handstamp in green along with CBN archival typewritten information regarding the proof. A one-of-a-kind proof, Very Fine
(Webb 8th edition EN88-P1b; catalogue value $1,300)
Regular price
$950.00
$0.00
Unit price
per
Tax included.
---