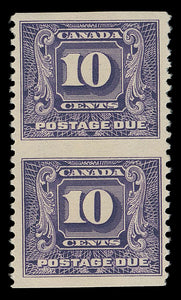 Gary J. Lyon (Philatelist) Ltd.
Item #
S008000
Canada J10a
1932 Ten cent dark violet Postage Due, a remarkably choice and unusually well centered mint vertical pair imperforate horizontally, full original gum. Most of the only 50 pairs known are very poorly centered with perforations cutting into the design, this unchara-cteristically well centered pair really stands out from the pack,
Very Fine+, Never Hinged (Unitrade J10a; catalogue value $5,000+)
Regular price
$4,250.00
$0.00
Unit price
per
Tax included.
---