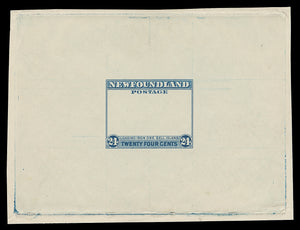 Gary J. Lyon (Philatelist) Ltd.
Item #
S007505
Newfoundland 210
1932 Twenty-four cent Loading Ore, large progressive die proof in dark blue of the frame only, die sunk on yellowish wove paper 87 x 65mm showing complete die sinkage area. A fabulous early stage proof, Very Fine (Unitrade 210 proof; Minuse & Pratt 210PX-B)
The frame is finished with added horizontal shading lines at left and right side of "LOADING IRON ORE BELL ISLAND" and the two small horizontal lines in the lower corner "triangles".
Regular price
$1,495.00
$0.00
Unit price
per
Tax included.
---