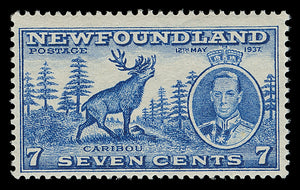 Gary J. Lyon (Philatelist) Ltd.
Item #
S007741
Newfoundland 235a, iii
1937 Seven cent bright ultramarine Long Coronation, the elusive comb perf 13.3x13.2 displaying a Major Re-entry (Position 23) with doubling outside right side of the oval and at both inner and outer vertical framelines at UR corner, unusually well centered for this as most comb perf stamps are notoriously off-centre. A great stamp,
Very Fine, Never Hinged

(Unitrade 235a, iii; catalogue value $1,300 as the comb perf only)
This plate variety (Pos. 23) is very similar to that found on Pos. 38, which has slightly more prominent doubling of the oval and in tree trunk next to oval at right. Interestingly enough, the current Gibbons catalogue lists the Pos. 38 re-entry with this perforation (#259db) at £4,000.
Regular price
$1,250.00
$0.00
Unit price
per
Tax included.
---