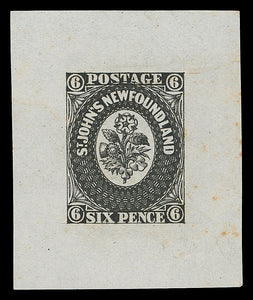 Gary J. Lyon (Philatelist) Ltd.
Item #
S007648
Newfoundland 6
1857 Six pence, large engraved die proof printed in black
on india paper 39 x 47mm; minor traces of foxing, the
characteristics of the die proof are plainly visible -
the outer
ring of the oval through the "STA" of "POSTAGE", horizontal
line above "S" of S
IX extends into the left "6", etc. A very
rare die proof especially in this larger size rather than
stamp size affixed to card normally found on early Perkins
Bacon proofs, Very Fine
(Minuse & Pratt 6TC1a; Unitrade 6 proof)
Regular price
$6,500.00
$0.00
Unit price
per
Tax included.
---