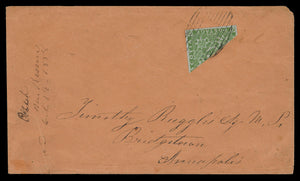 Gary J. Lyon (Philatelist) Ltd.
Item #
S007897
Nova Scotia 4a
1858 (October 18) Red brown envelope from the famous Ruggles correspondence, mailed from Kentville to Bridgetown and bearing a completely sound, full margined diagonal bisect of the 6p yellow green, carefully lifted and replaced, tied by clear oval mute grid cancel; on reverse neat Kentville dispatch and partially legible Bridgetown next day receiver. Envelope with sealed tear not mentioned in certificate, a beautiful example of the seldom seen bisected usage of the 6p yellow green to pay the single domestic letter rate, Very Fine (Unitrade 4a; cat. $6,000)

Expertization: 1969 RPS of London certificate
Provenance: Dale-Lichtenstein, Sale 5, May 1969; Lot 958
Regular price
$4,250.00
$0.00
Unit price
per
Tax included.
---