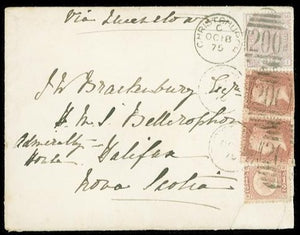 Gary J. Lyon (Philatelist) Ltd.
Item #
S006545
Nova Scotia British Royal Navy Concession Rate Cover
1875 cover endorsed "Via Queenstown" to J W Brackenburg, HMS Bellerophon, Admiralty Halifax, Nova Scotia" with unusual franking of British ½p Plate 6, 1p Plate 181 pair (folded over the edge of the envelope) and 2½p rosy mauve on blued paper, all tied by Christchurch OC 18/75 duplex, Halifax, NS OC 29 75 split ring backstamp; repaired at lower right. A rare and desirable maritime cover, Fine The addressee, Commander John W. Brackenburg served with distinction in the Anglo-Zulu War of 1879.
Regular price
$1,250.00
$0.00
Unit price
per
Tax included.
---